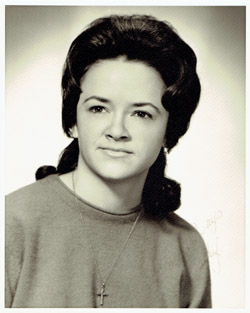 &nbsp
KATHRYN "KATIE" LANE
Katie Lane was a short stick of dynamite whose fuse was lit in 1946. The daughter of William Filliponi and Blanche Cooper (Borba), Katie passed away on April 19, 2016 at the age of sixty-nine at her home in Las Vegas, NV, after living a life filled with joys and hardships that she faced with fierce love, humor, and determination.
Katie never let anyone tell her what she could or couldn't do. As a child, she could out-throw and out-bat the boys on her dad's youth softball team. She loved to watch NASCAR with her step-father, Dick. And when people said in 1963 that girls couldn't complete a grueling "Kennedy Walk" in twenty-four hours, Katie walked 40 miles, through cuts and blisters, to prove them wrong.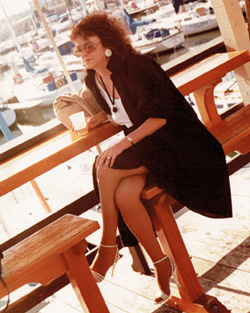 Like her brother, Gino, Katie was an outstanding cook and could grill you a porterhouse that would put Outback Steakhouse to shame. She was a Leo and was proud of her Italian heritage. She liked morning glory flowers, bowling, going to church, model trains, and Mickey and Minnie Mouse. She loved Shrek and Dirty Dancing, Michael Bolton and Billy Joel. Like her son, DaShanne, Katie enjoyed drawing, photography, Tetris, Star Trek, history, and architecture. Like her mother, Katie loved going new places and kept Kodak in business taking millions of pictures. She always said that if you were going to buy something, buy something nice and take good care of it.
Katie helped those around her through hard times and she was the kind of woman who would give the shirt off her back to those in need. She fought for what was right and wouldn't let anyone hold her back. It's little wonder that Katie's open mind and heart brought her much love. She married twice before finally marrying her best friend and true love, Ernie, in 1995.
Having been a champion drag racer in her youth, Katie refused to let anything, even her advancing age, slow her down. Even as she neared retirement, she could be found out camping with her loving husband on weekends, out riding her Harley trike in her Betty Boop leathers, or tearing up the countryside on a four-wheeler--all to the amazed cheers from her son.
Katie's enduring love, support, and determination continue to inspire her son's writing and work for civil rights. In the words of her loving God daughter, Camille, "we should all embrace life like she did."
Here is a printable version of Katie's obituary. (pdf)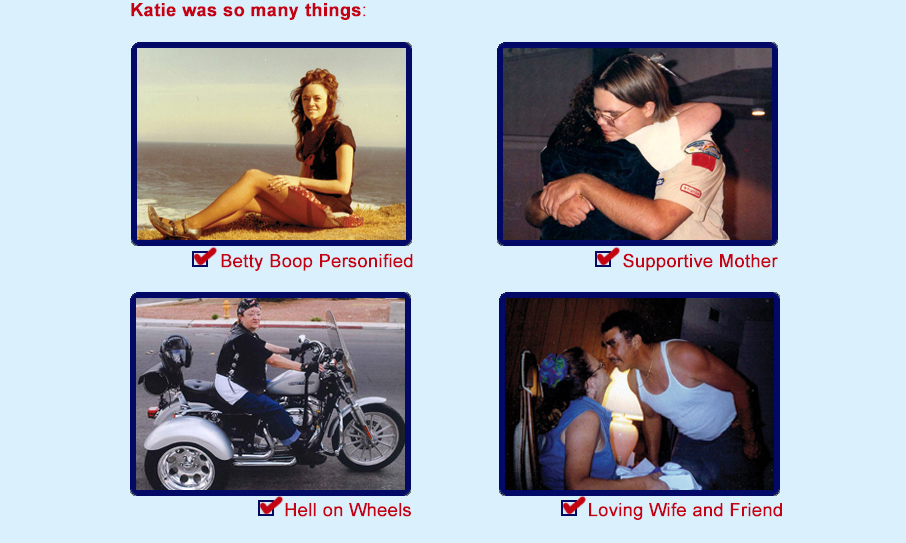 &nbsp
THERE'S MORE TO COME
In the coming weeks, I hope to add new features to my mother's memorial, such as personal stories and tributes, a timeline, short videos, and more. If you'd like to be notified of updates, please contact me using the form below.
Some of my experiences with my mother are also included in my forth-coming memoir, Recomposition.
A LIVING AND NEVER-ENDING MEMORIAL
I envision this as a living and never-ending memorial that will constantly grow as new things are shared with me in the coming weeks, months, and years. My hope is to fill this page with a variety of things, ranging from printable pictures and anecdotes to recordings and videos.
In this way, friends, family, and others will be able to visit this page any time they like to discover new pictures, new stories and other remembrances, and in so doing keep our love for Katie alive in our hearts.
YOU ARE INVITED TO CONTRIBUTE ANYTIME

If you are one of Katie's friends or relatives, I invite you to share your pictures, stories, and other remembrances on this page.
What I seek: photographs, stories, short tributes, interesting or significant dates, magazine and newspaper clippings, anecdotes, audio or video recordings, links to pictures or posts on Facebook, quotes that Katie said, things you remember about movies or music Katie liked, thoughts about how Katie has affected your life or what Katie means to you or others... Everything.
If you would like to share something, please let me know what you'd like to share and how I might be able to obtain it from you. I'm happy to receive photographs, stories, short anecdotes, etc. via email, through standard mail (which I can then scan and upload to the memorial), or to speak with you about your experiences with my mom over the phone. For things you may want to send me electronically, .jpeg and .pdf files work best, but other formats may be possible. If you would like to type a short anecdote to share, I ask that you please copy the text directly into the body of your email rather than sending it as an attachment (I'd like to minimize exposure to computer viruses).
I invite you to get in touch with me using my email address below (or via letter or telephone), to let me know if you would like share something that I might like to personally see or hear about (not intended for this memorial) as well as anything you and others might like to see and have access to on this page. It doesn't matter how seemingly mundane it might be. What's boring to one person might be gold to another.
This is a never ending memorial. As you come across new pictures, remember old times, come across new objects of remembrance that jog your memory, etc., please contact me. Whether it be today, next month, or ten years from now, I would love to hear from you.
Please note that this page is under construction and will be constantly evolving afterwards. The pictures, format, content, etc. on the page today is not necessarily how it will appear in the future.
Due to space constraints and other considerations, I can't guarantee that everything shared with me will be included. I also reserve the right to edit materials, such as to improve clarity, to preserve confidentiality or privacy, to ensure appropriateness, etc. I respect and will honor your wishes regarding stories, pictures, etc. that you might want to share with me personally but which you do not want to appear on this page, as well as those you might want to share publicly but anonymously. But even if something is not included, just hearing a new story, seeing a new a picture, etc., is priceless to me because I love and miss my mother very deeply.
PLEASE SHARE THIS PAGE
If you know of other friends, relatives, etc. who might have not have seen this page, please let me know and please share this page's website address with them. The website address is www.dashannestokes.com/memorial.html. (**Note: Please don't forget the ".html" at the end of the website address. You won't be able to visit the memorial without it.)
If you would like a fast and convenient way to share the website address for Katie's memorial page with others when you're offline, please feel free to print and distribute the website address cards in the pdf file below:
Click here to save and print memorial page address cards
CONTACT DASHANNE
If you would like to share something with me, for use on this memorial page or not, or if you have comments, questions, etc., please use the form below to contact me.